We Lead for Safety
From safety.ache.org
Improving healthcare safety requires leaders who are committed and take a stand to achieve the highest standards of safety. Strong leadership involves balancing core values while consistently raising the bar for excellence.
ACHE's leadership development expertise coupled with the IHI/NPSF's in-depth insight on safety practices, offers healthcare leaders the foundational tools to measure, build and sustain a culture of safety in the workplace.
Join us as WE LEAD FOR SAFETY!
Commit to leading for safety by signing our We Lead for Safety pledge and receive a Leading For Safety certificate.
Assess Your Safety Culture by taking this self-assessment.
Once you take the pledge to commit to a culture of safety and assess your current safety measures, we will continue to provide you with scalable steps and guideposts on the path to major progress. The Blueprint contains best practices and guidance to help you choose your first action steps. And, we will continue to provide timely information, tools and resources that support your commitment to safety.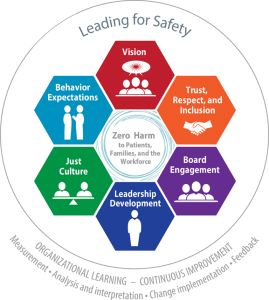 REGISTRATION OPEN!
All events currently available qualify for 1.5 Face to Face Credits
Innovations in Inclusion: Identifying and Overcoming Implicit Bias
Date: Wednesday, October 30
Time: 10am-4pm (registration begins at 9:30am)
Where: Healthcare Council of Western PA
Credits: 1.5 Face to Face & Qualified Education
Cost: ACHE Member – $30, Non-member – $40, Student – $20
Lunch will be provided
AGENDA
9:30-10am Registration
10-11:30am Keynote Address by Dr. James Taylor
11:30am-12noon Lunch Served
12noon – 1:30pm – Panel Education Session – Understanding Implicit Bias and its Impact on Healthcare Leadership
1:30-3:30pm Knowledge Cafes (Breakout Sessions) – Overcoming Bias in Medical Professional Settings
3:30-4pm Closing Remarks and Networking
Additional Speakers:
Ann E. Thompson, MD, MCCM –

Vice Dean,

Professor, Critical Care Medicine –

University of Pittsburgh School of Medicine

Cassandra A. Cooper-

Manager,

Diversity Learning –

UPMC

Yasmin S. Purohit –

Professor,

Human Resource Management –

Robert Morris




University

Tyler Titus – Vice Chair, PA Commission of LGBTQ Affairs

Dr. Priya Gopalan – Medical Director for Women's Psychiatry Services and Consult and Liaison Services, UPMC Western Psychiatric

Nikia Tucker, CRNP & Dr. Shelia Ramgopal – Allegheny Reporductive Health Center

Dr. Ken Ho – Chair of the PreP Committee, AIDS Free Pittsburgh

Dr. Keith Stowell – Medical Director for Resolve, Psych Emergency Department and PsychCare+, UPMC Western Psychiatric

Mary Jayne McCollough – Founder and Executive Director, Global Wordsmiths
---
SAVE THE DATE!
Thursday, December 5th – Annual Event and Chapter Celebration at Phipps Conservatory featuring Heather Rohan, FACHE, Chairman of ACHE as the keynote speaker.
---
Welcome to the 2019 Board of Directors
Executive Committee
Caitlin Gaudi – President
Alexandra Lackos – Vice President
Kelly Blake – Treasurer
Samantha Yeung – Secretary (Marketing and Membership Chair)
Natalie Bulger, FACHE – Immediate Past President (Advancement Chair, Nominating Chair)
Directors at Large
Carrie Ennis, FACHE – Sponsorship Chair
Kim Fierst – Programming Chair
Dr. Denise Johnson, FACHE – Diversity Chair
Evan Finklestein – Early Careerist Chair
Michael Bush, FACHE
AJ Harper
Kevin Broom
Dorene Sommers
Stephanie Dorwart
Kelsey Hooker – Student Representative
Jean Tauber – Regent
---
Thank you to our 2019 Annual Sponsors