We Lead for Safety
From safety.ache.org
Improving healthcare safety requires leaders who are committed and take a stand to achieve the highest standards of safety. Strong leadership involves balancing core values while consistently raising the bar for excellence.
ACHE's leadership development expertise coupled with the IHI/NPSF's in-depth insight on safety practices, offers healthcare leaders the foundational tools to measure, build and sustain a culture of safety in the workplace.
Join us as WE LEAD FOR SAFETY!
Commit to leading for safety by signing our We Lead for Safety pledge and receive a Leading For Safety certificate.
Assess Your Safety Culture by taking this self-assessment.
Once you take the pledge to commit to a culture of safety and assess your current safety measures, we will continue to provide you with scalable steps and guideposts on the path to major progress. The Blueprint contains best practices and guidance to help you choose your first action steps. And, we will continue to provide timely information, tools and resources that support your commitment to safety.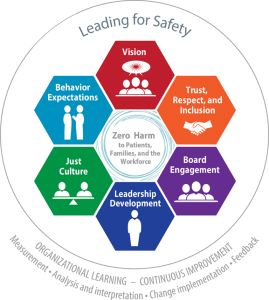 ---
Welcome to the 2023 Board of Directors
Executive Committee
Evan Finkelstein – President
Stephanie Dorwart – Vice President
Adam Kramer – Treasurer
Alyssa Pennington – Secretary
Directors at Large
Kevin Broom
Stephanie Dorwart
Alex Lutz
Erica Shaffer
Dorene Sommers
---
2023 SPONSORSHIPS NOW AVAILABLE
ACHE-WP Sponsorship Program Packet_2023