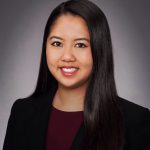 Secretary
Chair, Marketing and Membership Committee
Samantha Yeung
Process Consultant/Project Manager
Pensiamo (UPMC)
Samantha is a Process Consultant at UPMC within the Supply Chain Management department. She serves as a project manager in Mergers & Acquisitions and leads hospital supply chain integrations for newly acquired hospitals and physician offices for UPMC. As an organizational change leader, Samantha engages key leaders across the organization and integrating entity to provide a seamless transition to further enhance supply chain process efficiencies and achieve system-wide cost savings.
Prior to joining UPMC, Samantha was a healthcare consultant in the Health IT field. In her spare time, Samantha volunteers at The Children's Home and Lemieux Family Center as a baby holder in the pediatric specialty hospital.
Samantha joined ACHE as a student member in 2011 and previously served on the Early Careerist committee. She continued onto the Marketing & Membership committee, which she now serves as the committee chair.
Samantha holds a Master of Science in Healthcare Policy and Management from Carnegie Mellon University Heinz College, and a Bachelor of Science from Lehigh University.