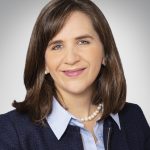 Chair, Sponsorship Committee
Carrie Ennis, FACHE
Senior Director, Strategy and Partnership
UPMC
Carrie is a Senior Director in the Strategic Planning Department at UPMC with primary focus on the northern markets. Additional responsibilities include board governance, oncology service line, telemedicine, and community benefit reporting at UPMC Hamot. Carrie is active in the community serving on the Boards of American College of Healthcare Executives of Western Pennsylvania, UPMC Kane, UPMC Cole, Safe Harbor Behavioral Health, and Fairview School Foundation. Carrie is also a founding member of a collaborative that conducts tri-ennial Community Health Needs Assessments for Erie County, Pennsylvania and serves as board chair of Partnership for a Healthy Community. Ms. Ennis also represents UPMC on the Blue Zones Governance Committee for Corry, Pennsylvania. Earlier in her career, Ms. Ennis was a CPA with PriceWaterhouseCoopers in Cleveland, Ohio and also worked in research accounting at the Cleveland Clinic. Carrie is a Fellow in the American College of Healthcare Executives, holds a bachelor's degree in accountancy from John Carroll University and a master's degree in business administration with specialization in healthcare administration from Cleveland State University.